Videotron Brwall FINE PITCH LED DISPLAY NWA Series LED Display
Fine Pitch LED displays represents the top technology of LED display field, they may be used in high-end conference rooms, TV studios, the government mansion, etc. It has the smallest pixel pitch (1mm or even less) and the finest display effect. BRWall is the pioneer in the field of HD LED display, and has many successful cases already.
gher precision, full-box CNC finishing, external dimensional accuracy +-0.025mm, plane accuracy +-0.05mm.
More safe, the new cabinet uses super new materials, flame retardant V0, insulation is not conductive.
Lighter weight, one-fourth lighter than traditional die-cast aluminum, and twice as light as traditional iron boxes.
The thickness is thinner, the box is only 56mm, and the thickness of the bottom case is omitted, and the whole screen is thinner.
300x400 Nanometer Die Casting Box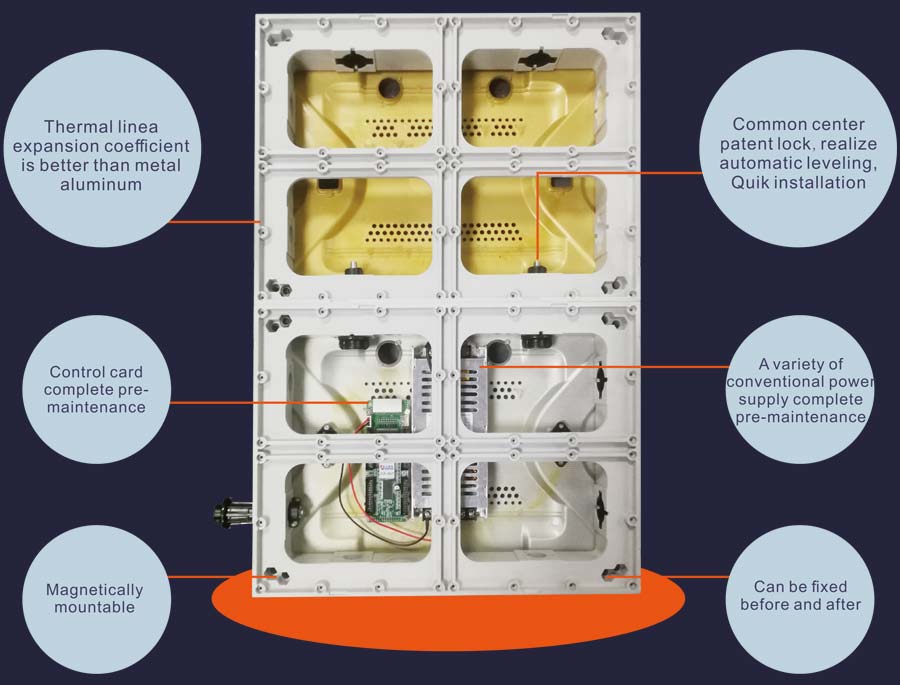 The construction is faster, the patented mid-point lock is used, the splicing precision is higher, the construction sfficiency is faster, and no repeated correction is needed.
More convenient maintenance, complete front maintenance, module, power supply, system card, front cabinet maintenance.
More installation methods, magnetic, screw fixed, front, near, lifting,can be directly attached to the wall.
The size is more stable, using super new materials, thermal linear expansion coefficient of 0.3x10-4(-20 to 60 degrees )
Completely Front Maintenance
Cabinets and modules are separated packed, first install cabinets and then install modules.
Smart adjust: unique alignment features ensure the video wall is perfect aligned and seamless, the flatness tolerance of screen is ≤ 0.1mm.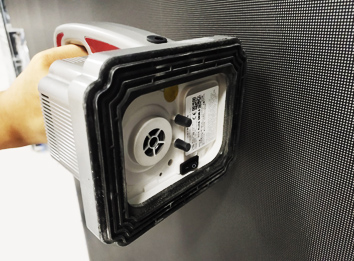 1.The magnet edge-on the front.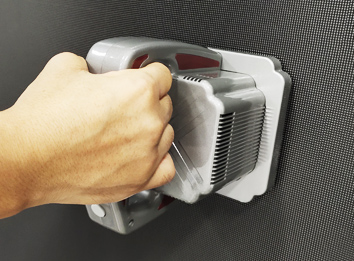 2.Magnet is appressed in the middle of module.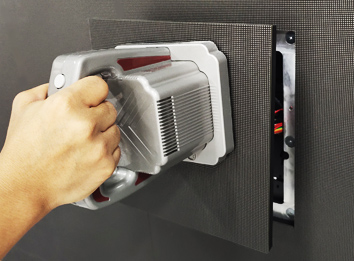 3.Pulling the magnet slowly, module will be apart from cabinet.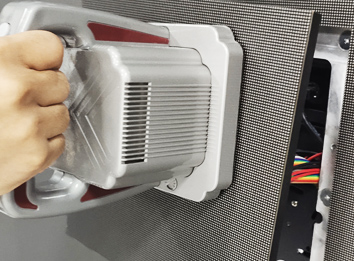 4.The same way to put the module back to the cabinet.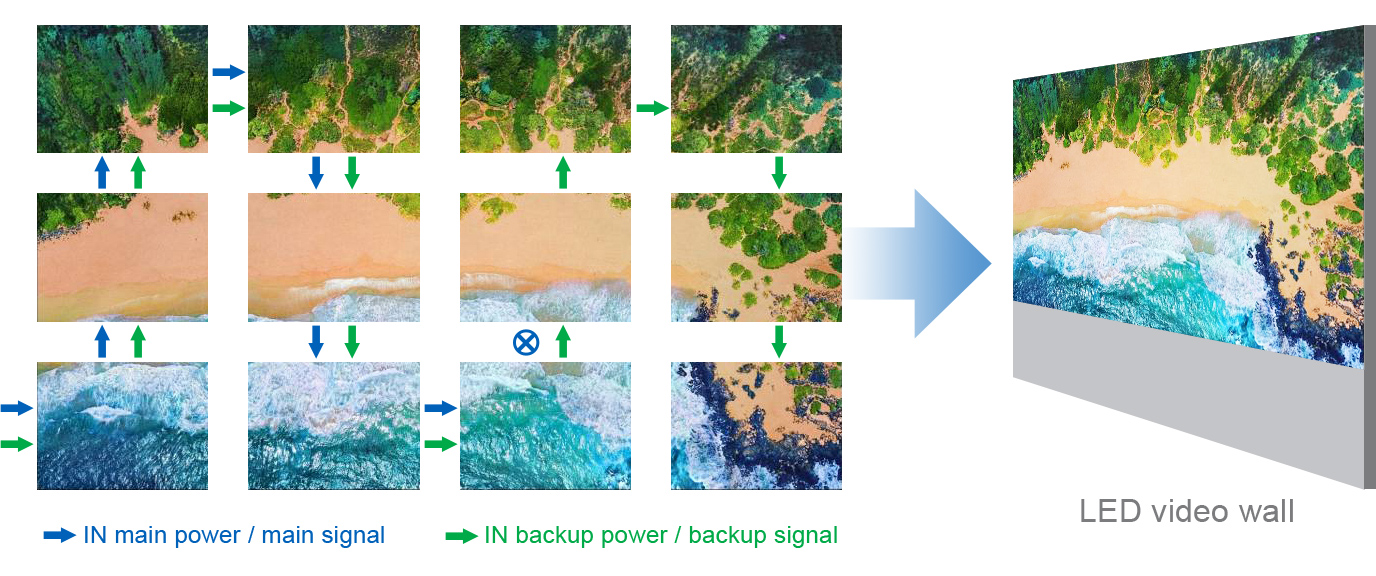 Power Supply &
Signal Back up
Redundant power supply design, dual signal inputs, auto matically detecting the failure then switch, ensure the whole system's stability and reliability.
Low Brightness
With High Gray Scale
BRWall LED display use high quality LED Lamps and PWM drive IC, goes with Lamp Video's patented mask and special images arithmetic processing that makes a better color rendering, color revivification and more details even in low brightness mode. Excellent gray scale performance even in low-brightness of 100 cd/㎡.

Normal LED display Low gray scale poor performance.

BRWall LED display low brightness, high gray scale.

960Hz (Shutter Speed 2000)

3840Hz (Shutter Speed 2000)
Professional Image
With
High Refresh Rate
Up to 3840Hz high refresh rate keeps it high quality display performance even under professional camera, no water waves or screen flashing, totally meet the live show requirements.
Nanosecond Level
Response Time
LED response shortly in nanosecond level without smearing or double image effect.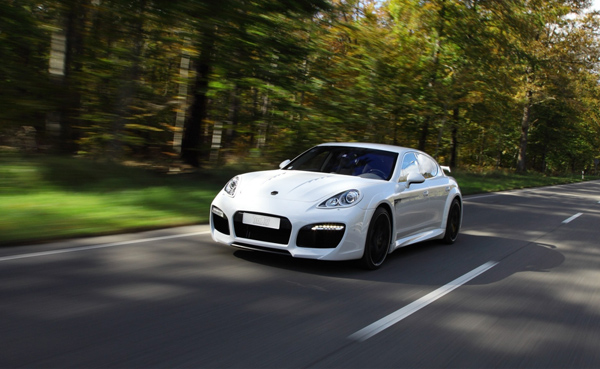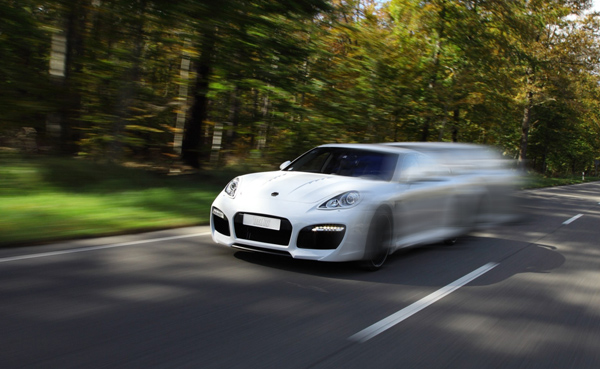 TWM series enjoy a long product life (100,000 hours, 8-10years),
attributed to its advanced experience in manufacturing and processing management,
rich design experience in drive circuit.
| | | | |
| --- | --- | --- | --- |
| NWA Series | P1.25 | P1.56 | P1.667 |
| Pixel Pitch | 1.25 mm | 1.56 mm | 1.667 mm |
| Module Size (WxHxD) | 200mmx150mmx13mm | 200mmx150mmx13mm | 200mmx150mmx13mm |
| Physical Density | 640,000 Pixel/㎡ | 410,900 Pixel/㎡ | 359,856 Pixel/㎡ |
| Module Resolution (W×H) | 160x120 | 128x96 | 120x90 |
| Module Port | HUB-HD01 | HUB-HD01 | HUB-HD01 |
| Driving Method | Constant Current 1/30scan | Constant Current 1/30scan | Constant Current 1/30scan |
| LED Encapsulation | Commercial Grade 3-in-1 SMD1010 (Black) | Commercial Grade 3-in-1 SMD1010 (Black) | Commercial Grade 3-in-1 SMD1010 |
| Module Working Voltage | 4.2-5 VDC | 4.2-5 VDC | 4.2-5 VDC |
| Module Maximum Power Consumption | 35W | 35W | 35W |
| Viewing Angle (Horizontal/Vertical) | 160°/140° | 160°/140° | 160°/140° |
| Module Of Cabinet (W×H) | 2x2 | 2x2 | 2x2 |
| Cabinet Resolution (W×H) | 320x240 | 256x192 | 240x180 |
| Option Distance | 1-30m | 1-30m | 1-30m |
| Frame Rate | 60Hz/120Hz(3D) | 60Hz/120Hz(3D) | 60Hz/120Hz(3D) |
| Refresh Rate | 1920-3840Hz Adjustable | 1920-3840Hz Adjustable | 1920-3840Hz Adjustable |
| Brightness | 300-800 cd/㎡ Adjustable | 800-1000 cd/㎡ Adjustable | 1100 cd/㎡ Adjustable |
| Contrast Ratio | 5000:1 | 5000:1 | 5000:1 |
| Colour Temperature | 3200K-9300K | 2000K-9500K | 8500K-11500K |
| Brightness Uniformity | >97% | >97% | >97% |
| Color Uniformity | >97% | >97% | >97% |
| Light Pixel Centerline Spacing Difference | <3% | <3% | <3% |
| Singel Pix Brightness Corretion | Support | Support | Support |
| Gray Scale/color | ≥16.7M color | ≥16.7M color | ≥16.7M color |
| LED Lifetime: Typical | 100,000 hrs | 100,000 hrs | 100,000 hrs |
| Cabinet Weight | 4.8Kg | 4.8Kg | 4.8Kg |
| Cabinet Flatness | ≤0.1mm | ≤0.1mm | ≤0.1mm |
| Cabinet Size (WxHxD) | 400mmx300mmx80mm | 400mmx300mmx80mm | 400mmx300mmx80mm |
| Maximum Power | 140 W | 110 W | 90 W |
| Display Working Voltage | 100-240VAC 50/60Hz | 100-240VAC 50/60Hz | 100-240VAC 50/60Hz |
| Working environment temperature | -10~40℃ | -10~40℃ | -10~40℃ |
| Working Environment Humidity(RH) | 10%~70% | 10%~70% | 10%~70% |