SMART BOARD MX065 65 INCH INTERACTIVE DISPLAY WITH IQ
Smart Board MX065-V2 Pro series interactive display with iQ - White
65" 4K Ultra HD resolution display

Accelerated Life Testing

LED rated for 50,000 hours

Fully heat-tempered, anti-glare glass

Silktouch™ frictionless surface

ENERGY STAR® certification

Regulatory and environmental certifications

SMARTBOARD Assure Warranty

The SMARTBOARD MX065-V2 Pro interactive display with iQ is great value for businesses that need an interactive display on a budget. The 65" 4K Ultra HD resolution display includes a license to SMARTBOARD Meeting Pro and a standard three-year warranty.

The iQ experience offers one-touch access to collaboration tools, including a digital whiteboard, a web browser, and wireless screen sharing.
Write effortlessly
HyPr Touch™ with Advanced IR provides more than twice the accuracy of traditional infrared technology for an intuitive, natural writing experience.
iQ embedded computing
Switch with a tap from showing a video to writing on the digital whiteboard to surfing the internet – to keep ideas flowing.
Commercial grade
MX Pro series is rated for 50,000 hours of reliable use and SMARTBOARD's Accelerated Life Testing ensures less downtime and longer life.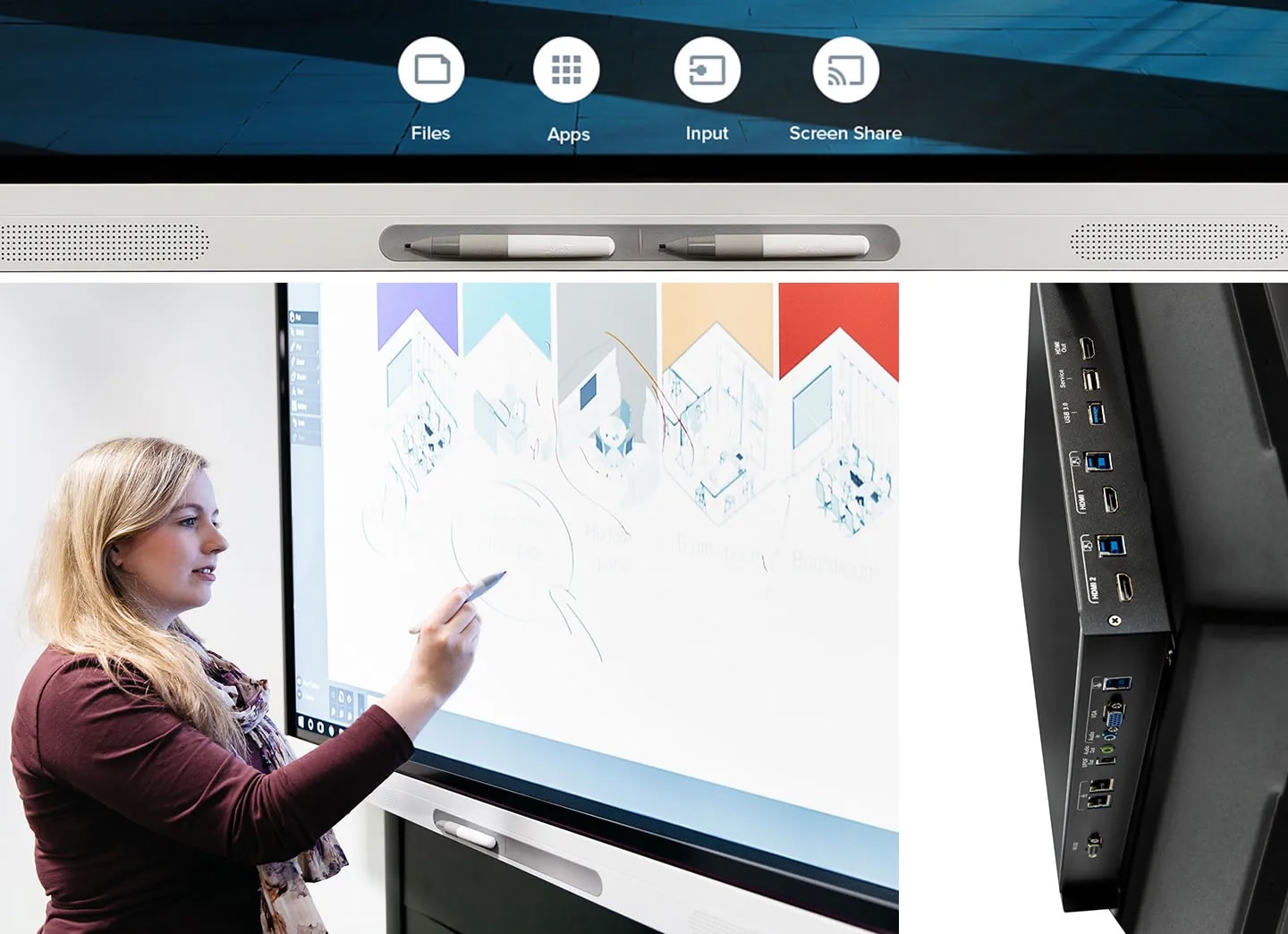 Built to use. Built to last.
Durable and commercial-grade, SMARTBOARD displays have received many safety, regulatory and environmental certifications, giving you peace of mind that they adhere to government or other regulatory requirements.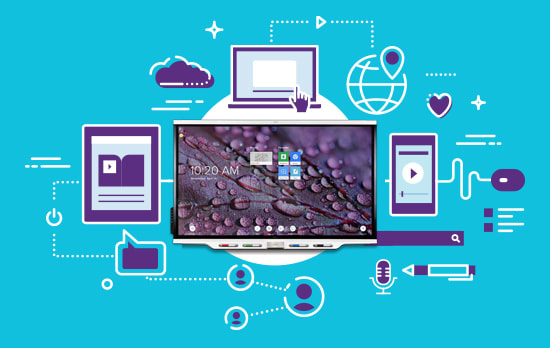 iQ makes everything one touch away
iQ Android™ embedded computing let teachers switch with a tap, from delivering a lesson to writing on a whiteboard to surfing the internet.

Students stay focused. Teachers save precious time.

Available with Windows® 10 Pro on an Intel® Compute Card.
SMARTBOARD Remote Management
Push updates. Send messages. Run diagnostics. SMARTBOARD Remote Management lets education and business administrators maintain, control and secure devices from any web browser. Designed to centrally manage iOS®, Android™, Chrome OS™ and Windows® devices, and SMARTBOARD displays with iQ – SMARTBOARD Remote Management is your one-stop solution.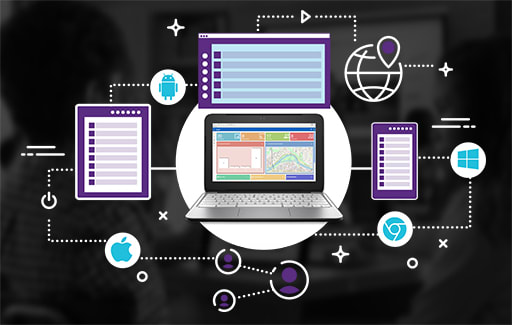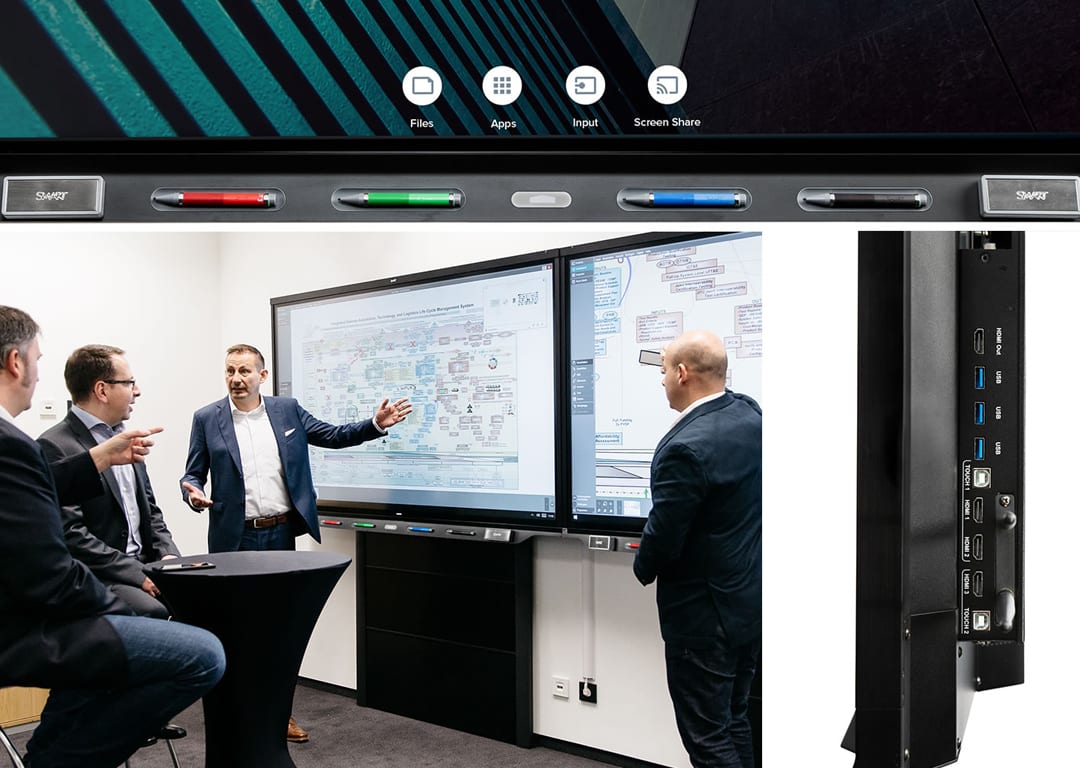 Write with unrivalled accuracy and ease
HyPr Touch™ with EMR technology provides lag-free, pressure sensitive writing precision and knows to ignore a resting hand for ultimate ease-of-use.
Save time and energy
Proximity and ambient light sensors automatically power up and adjust the brightness of the display for quick start-up and comfortable viewing.
Quickly connect and share
Easily connect computers and storage media to the convenience panel including USB-C or add Windows 10 Pro computing to your display.
Unparalleled Collaborative Experience
Today's workflows are about going beyond communicating to collaborating. SMARTBOARD has spent 30 years designing hardware and software solutions that work together to create interactive environments.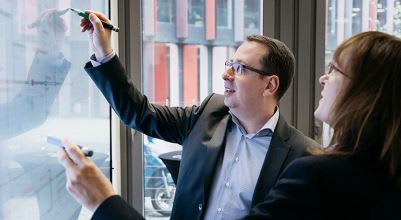 Multiple users, tools and colors at the same time
Simultaneous Tool Differentiation frees multiple students to write, erase and move notes at the same time. Pen ID™ recognition and Object awareness™ detection automatically make pens write in different colors, fingers move and palms erase.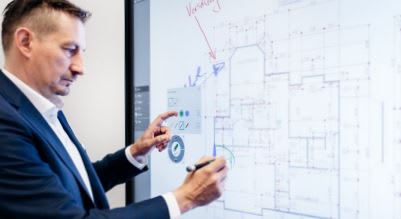 Write and save notes directly into applications
SMARTBOARD Ink® software lets teams write over videos and into PDFs, Microsoft Office® files and websites, then save notes in almost any file type. Convert notes to text and access spotlight, magnifier and screen shade tools.
SMARTBOARD Meeting Pro® software
Don't bother erasing. Just keep working. SMARTBOARD Meeting Pro lets teams capture ideas in the virtually unlimited interactive workspace. The Unbound Workspace expands as colleagues add images, files, links and notes – even over multiple displays and meetings – for enhanced collaboration.
Navigate the Unbound Workspace
There are no space restrictions – pan in any direction and zoom in and out. A map-style radar view shows your current location and you can bookmark key content to easily go back to it.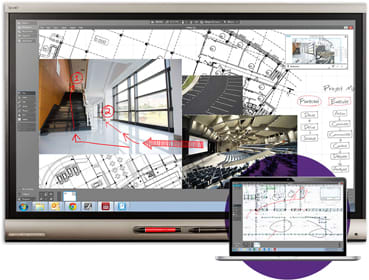 Leverage multiple displays
With a Room license, you can connect up to 16 displays to the same workspace. Notes on one display show up on all the others. Even control what content appears on which screen.
Access the workspace
With a Personal license, colleagues can prepare, review and work on files and collaborate with co-workers before, during and after a meeting from anywhere.